December is arguably the biggest month for parties with Christmas, New Years, Hanukkah, Kwanzaa and what have you.
For many of us (namely myself), spending an entire paycheck on a dress to wear only once, maybe twice, just isn't going to happen.
Don't stress: here are some much more affordable options.
The websites listed below have many holiday-appropriate dresses for beyond-affordable prices.
I've selected my favorites here, but please check out the sites yourselves to find the perfect dress that speaks to you (and your checkbook).
1. Jewel Flapper Dress by Twelve By Twelve (Forever 21's new women's couture line), $59.00, www.forever21.com/twelve
If you like this story, consider signing up for our email newsletters.
SHOW ME HOW
X
Newsletters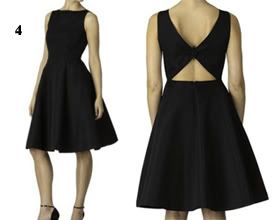 2. Alexis Dress by Delias, $44.50, www.delias.com
3. Sequined Ensemble Dress by Forever 21, $34.80, www.forever21.com
4. Hankerchief Back Dress in Ebony by Isaac Mizrahi for Target, $49.99, www.target.com (check out the sexy back!)
*If you have a holiday party coming up like right now, splurge on the express shipping. You'll still save a bundle compared to what you would have spent in a department store.