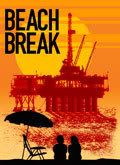 Three months ago, Heal the Bay, a Santa Monica-based environmental group, released its 17th Annual Beach Report Card. Although the group noted an overall improvement in the quality of water at California beaches, it reported that Long Beach had suffered a "dramatic drop in water quality" during the previous year. Twenty-four of the 28 testing sites along the city's waterfront earned grades of C, D or F, giving Long Beach the "dubious distinction" of being the "No. 1 'Beach Bummer' in this year's report."
That ranking, as it turns out, reflects the level of fecal bacteria in the water, which is important to know about because shit-polluted water can cause skin rashes, ear and eye infections, gastrointestinal problems, and even Hepatitis A.
Ah, yes: Hepatitis A (a viral disease that harms the liver). The disease is most commonly transmitted via the "orofecal" route, which is when you get shit in your mouth. Hepatitis A can also be transmitted sexually — we won't get into the specifics of that — and by swimming in poopy water. (Mothers' Beach, anyone?) Symptoms usually appear two to six weeks after the start of infection and include: fatigue, abdominal pain, nausea, diarrhea, appetite loss and jaundice, all of which also happen to be symptoms of swimming in the ocean in Long Beach.
Which raises an interesting question: why doesn't the report include any data about Hepatitis A? After all, Hepatitis A, according to the Centers for Disease Control, will affect roughly one-third of Americans in their lifetime.
Turns out the Long Beach Health Department, which is responsible for testing the city's ocean-water quality after sewage spills, but doesn't actually test those spills for Hepatitis A. Since January 2007, Long Beach has documented 62 sewage spills citywide, of which only three were deemed a public health risk, either because they were contained before reaching city beaches or failed to produce bacterial levels high enough to meet the state's beach-closing requirement:
If you like this story, consider signing up for our email newsletters.
SHOW ME HOW
X
Newsletters
Asked why the city doesn't test for Hepatitis A, Helene Calvet, the city's public-health officer, says the California environmental guidelines don't require them to do so. "Hepatitis is a virus and we don't test for viruses," Calvet says. "We can't say if it is in the sewage or if it . . . is in the water." Calvet adds that she had "no idea" why the state doesn't require cities to test their ocean water for Hepatitis A.
Let's ask a scientist! Shakoora Azimi-Gaylone, a staff scientist for the California State Water Control Board, says testing for Hepatitis A takes so much time — a few hours or so — that beaches are already contaminated by the time the results come back. She also says the tests were "pretty expensive."
By expensive, Azimi-Gaylone is apparently referring to the hefty price tag of $20 to $30 per test. Ouch! Azimi-Gaylone promises the state health board is working on a much quicker and more effective test for viruses in ocean water that should be available to public health laboratories within a year.
Until then, if you're actually crazy enough to swim in Long Beach's water, just be glad there's probably so much industrial pollution in the ocean — motor oil, diesel fuel and whatever killed all those fish on the Peninsula last week — that the Hepatitis A virus could be the least of your worries.