Beach Break: Something Smells Fishy
Friday, July 13, 2007 at 6:24 p.m.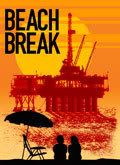 On the morning of June 30, Long Beach Peninsula residents awoke to a scene of carnage.
Hundreds of dead, bloated bodies littered the shores of the upscale area, their gaseous, stinky bodies covering the landscape.
It smelled like, and was, a smelt massacre.
On what will forever be known on the peninsula as Fishy Saturday, state Fish and Game Department officials arrived at the beach, along with City Parks, Recreation, and Marine officials, to investigate the cause of this mysterious beaching.
"This sort of thing can happen for a variety of reasons," explained Harry Morris, California Department of Fish and Game public information officer. Causes include "red tide and pollution, which I don't think is the reason in this case here."
Another reason could be the simple fact that smelt die shortly after spawning, and let's face it, the weather has been so nice lately, and who hasn't been doing a little spawning themselves, huh? Am I right?
After consulting with California Fish and Game biologists, Morris told the Weekly that the smelt slaughter was mostly likely caused by local fishermen who "were likely fishing commercially for something else when the different schools became crossed."
After state Fish and Game biologists' toxicology reports found no sign of poisoning in the fish, they determined fishermen to be the most likely cause. "If smelt are netted," Morris said, "by law they must be released."
While the true cause of Fishy Saturday remains unclear, one thing is certain: Smelt are delicious when dipped in a flour mixture with salt and pepper, fried in butter, and served with potatoes and pickled beets.
Get the ICYMI: Today's Top Stories Newsletter Our daily newsletter delivers quick clicks to keep you in the know
Catch up on the day's news and stay informed with our daily digest of the most popular news, music, food and arts stories in Orange County, delivered to your inbox Monday through Friday.
Recommended for You
Powered by SailThru