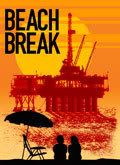 On the corner of Pine Avenue and Shoreline Drive in downtown Long Beach hangs a banner. It says "COMING SOON." and it's been hanging for years from what is supposed to be the newest Laugh Factory at the Pike at Rainbow Harbor.
A November 2003 article in the Long Beach Press Telegram celebrated the grand opening of the "entertainment-retail center," saying that it was "off to a good start." The article stated that the Laugh Factory was scheduled to open in the second quarter of 2004 (January 1 to March 31). Nearly three-and-a-half years later, the same dusty banner assures passersby that things are coming along nicely.
After the Press Telegram reported the anticipated winter 2004 opening of the Laugh Factory, a December article in the paper said the "comedy mainstay" was scheduled to make its debut in the summer of 2004. Three weeks later, without explanation, the Press Telegram reported that the club would actually open sometime the following year. A year after the pike opened, in November 2004, Market Wire reported that the Laugh Factory was "under construction and expected to open soon." Nearly two years later, the LA Times said exactly the same thing: the club was "opening soon."
A March 2007 issue of the Daily Breeze got a little more specific with a projected opening date of April, but three months later, the doors remain closed. The source of these grand opening dates remains unclear, but I suspect at least some of them might have derived from the only evidence the Laugh Factory will ever come to Long Beach, namely the big white banner that says the club is "COMING SOON."
In an effort to make my own comedy forecast, I traveled a road that took me along nine phone numbers, five area codes, three email addresses, and a partridge in a pear tree, and I still have no answers, as everyone available was either unable, or unwilling to answer any questions. Come along on this journey, won't you?
A call to Colleen Dunn, Pike Regional General Manager, was not answered, so her receptionist referred me to Developer's Diversified Realty (DDR), Pike parent company based in Ohio. Their receptionist referred me to Mark Baziak, the Pike's leasing agent. He was not in and did not return my call. I called the Pike office again and spoke with Eduardo Escandon, an operations manger. Escandon said he did "know that there is construction going on in there right now," but added that he was "new," and had no idea when the club would open.
If you like this story, consider signing up for our email newsletters.
SHOW ME HOW
X
Newsletters
Escandon referred me to Patricia Neil, the Pike's marketing director, who also said she was "new," and "temporary," and "could not answer any questions about the Laugh Factory." She recommended that I call the Laugh Factory directly, but didn't have a phone number, or know anyone in particular to call. So she referred me to Rick Zimmerman, the Pike's head of construction. He was not in, and never returned my call.
But I did get a call back from Pam Knoener of the Pike's parent company, DDR, requesting that I email her a list of questions so she could look them over, and figure out who should be answering them. I obliged and sent her questions like, how long has the Laugh Factory unit at the Pike been empty? Why has it remained closed for so long? Since the Pike is usually empty because there's no reason to go there, wouldn't it be in the Pike's interest to either speed along the opening of the Laugh Factory, an attraction that would surely bring in some dollars, or try to get something else in there that would? And most importantly, when the hell is that place going to open?! And don't tell me the answer is "soon!"
A couple of hours later Ms. Knoener was good enough to call me back. She said the folks at DDR were politely declining to answer any of my questions. She referred me to the Laugh Factory's Hollywood office, which has not returned several phone calls. So I checked the company's website and clicked on the banner that said "Long Beach," which took me to a helpful link saying that the club would be "COMING THIS HOLIDAY SEASON." As proof, the page included a nice photograph of the empty club with the banner stretching across it saying "COMING SOON."
And there you have it – the end of our journey. I could use a laugh. Join me in Hollywood?