Ayn Rand Institute Warns: The Obesity Police Are Coming!
Tuesday, February 19, 2008 at 3:58 p.m.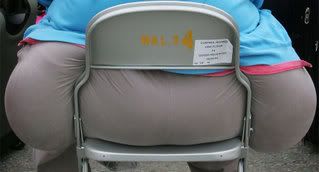 Mississippi lawmakers have proposed a bill that would revoke the business license of any restaurant that serves food to fat people.
The statewide measure, House Bill 282, would prohibit eateries from serving food to "any person who is obese based on criteria prescribed by the state health department." If passed, the bill would allow the department to monitor compliance and have the power to revoke any violators' permits. None of which sits well with Irvine's Ayn Rand Institute, which sent out a press release expressing their shock over the matter.
"Proponents of the paternalistic nanny-state are intent on transforming obesity into a public health issue," said Thomas Bowden, an analyst at the institute. "Legitimate public health measures, such as quarantining persons with infectious diseases or outlawing disease-spreading cesspools, involve shielding innocent victims from physical force. But fat people do not emit physical forces that impede other people's freedom of action. Hence, government has no right to prevent or punish obesity."
In related news, the Long Beach Press Telegram reports that a man was held at gunpoint and robbed of $20 worth of carnitas tacos yesterday. No word on whether he was a fatty.
Get the ICYMI: Today's Top Stories Newsletter Our daily newsletter delivers quick clicks to keep you in the know
Catch up on the day's news and stay informed with our daily digest of the most popular news, music, food and arts stories in Orange County, delivered to your inbox Monday through Friday.
Recommended for You
Powered by SailThru