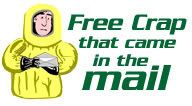 I like to "live on the go." Who doesn't? But I never knew before that it makes take-out easy. I'd prefer something that takes make-out easy, but you roll with what you get.
This may be the first gift basket ever in which a green plastic bag is offered as if it were something special, though it makes for a nice color contrast with the foam tomato. I will never wear the T-shirt, and probably won't use the metal coffee mug much. But it was nice of them to include a gift card for $10, though I'm betting they don't sell anything that cheap.
Oh, and liveonthego.com is some kind of online menu service that partners with other restaurants so that you can preorder food for pickup. Sounds like a middle-man that could be easily cut out, but they sure do make purty baskets:
If you like this story, consider signing up for our email newsletters.
SHOW ME HOW
X
Newsletters
(pic behind the cut)