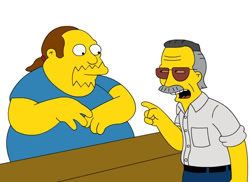 As reported in this week's Comic-Con preview by yours truly, Fox was set to showcase upcoming movie releases including Aliens Vs. Predator, Babylon A.D. and Jumper. The LA Times is reporting that the studio decided their footage "wasn't ready."
JoBlo.com writes that this may be the result of a dispute stemming from last year's Con, where Fox debuted the naked fight scene from Borat in its entirety, with no forewarning of the content. At the time, I blogged that "I couldn't believe this [footage] would be in an MPAA rated movie, let alone shown before a family audience. I wonder if Comicon [sic] people will be more diligent about screening stuff in the future. Not that I mind, but I suspect many parents might."
Some critics are suspicious, given that this comes on the heels of a spat between Fox and the media over access to screenings of The Simpsons movie.
But according to JoBlo, presentations by Fox Atomic and a panel on The Simpsons (movie and TV show) will go on as planned. And since most of the movies originally scheduled to be previewed are a long way off, it's not hard to believe that, in fact, Fox just wasn't ready to show their stuff.
If you like this story, consider signing up for our email newsletters.
SHOW ME HOW
X
Newsletters
Still, to be honest, it's not like the panel was super-anticipated to begin with. Now, if Paramount had backed out after promising Star Trek and Indiana Jones scoops, geeks would riot.