Why Isn't There More Classic Rap Radio?
Wednesday, July 18, 2007 at 5:33 p.m.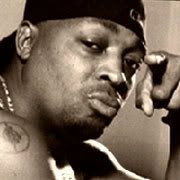 Chuck D: Give this man a Classic Rap radio program, stat!
Way back in 1991, I made a prediction that the airwaves would be saturated with Classic Rap Radio by the late '90s/early '00s. That sparkling future obviously hasn't come to pass. Although there are a few such stations on the 'Net (here and here) and the odd show devoted to it on terrestrial radio, not much '80s/'90s rap gets excavated for public appreciation (see this blogger's take on the subject).
It seems like the time is way overdue for such a format, but hip-hop — at least mainstream/major-label hip-hop — is notorious for not paying proper respect to its history and being much more concerned about what's HAWT RIGHT NOW and drilling a small handful of songs into your memory banks with nauseating frequency.
It would be easy to find plenty of DJs who could competently program such a niche medium, but the catch is to convince the bean counters there's a demand/market for old-school/Golden Age hip-hop. Considering that so many radio stations are fueled by nostalgia, Classic Rap seems like a surefire winner, as the genre has nearly 30 years of catalog from which to draw. (You could also do special segments just spotlighting the major sources of samples for hip-hop classics.)
Get people like Chuck D, MC Serch, the Ego Trip dudes, Dante Carfagna, DJ Shadow, Kool Keith, Steinski, Coldcut and Biz Markie to host some shows and you're in serious (or Sirius, if you dig satellite radio) business. I think this format has amazing potential. Who has the vision and financial wherewithal to execute it?
Get the ICYMI: Today's Top Stories Newsletter Our daily newsletter delivers quick clicks to keep you in the know
Catch up on the day's news and stay informed with our daily digest of the most popular news, music, food and arts stories in Orange County, delivered to your inbox Monday through Friday.
Recommended for You
Powered by SailThru