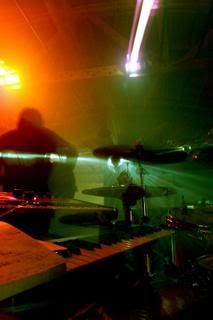 The Warlocks go deep.
Where will you find the area's most discerning drone/psych-rock aficionados tonight? At Alex's Bar in Long Beach, where Los Angeles' Warlocks and LB denizens Magic Lantern will be setting their FX boxes on STUN, PHASE, FLANGE, etc. The Warlocks come off like Brian Jonestown Massacre's heavier, trippier younger siblings and with more Spacemen 3 records in their collections. They combine dreamy melodies with hypno-mantric jamming, generating a potent, all-over aural buzz.
If you like this story, consider signing up for our email newsletters.
SHOW ME HOW
X
Newsletters
Magic Lantern blew my mind the first time I saw them at the Prospector September 8. I can't really add much more than what I posted in this live review on Heard Mentality. These gods of throb are one of the most mesmerizing bands working in this region; they're true psychonauts who understand that the power of repetition is best manifested when it's done with transcendental transport as its goal. Listen to their holy blissin'.