Just returned from the dios set (see Chris Ziegler's 2004 cover story here) at the Chuggin' Monkey (located a few blocks from Mooseknuckle's and Uncle Flirty's Loft...seriously). Despite undergoing some lineup changes over the past few years, the band continues to amaze me with how ferociously they can perform live. [Full disclosure: I have at times played Guitar Hero and been entertained by the card magic of founding member Jimi Cabeza de Vaca.] The previous bands went a little long, forcing dios to play a shortish set, which ended just as things were really getting going. Passerbys stopped, listened and retrieved sticks as drummer Patrick Butterworth whipped them out the window after he'd abused the hell out of them. Watch the video here and ask yourself when was the last time you've been so entertained by a drummer. The band has a new album coming out soon and will hopefully continue to update their endlessly entertaining web pages.
I ran into bass player J.P. Caballero (pictured at left, preparing to pop his collar in flagrant violation of the house rules) on Friday and talked to him a bit about the direction of the group.
O.C. Weekly: So what do you have planned for the show tonight?
J.P.: Well, Joel's gonna do some backflips. I've been working on this tantric yoga routine. Really good stuff. And then, for the music...uh, yeah, we're just gonna sing and play guitar. Yeah, really different stuff.
O.C. Weekly: When's the album coming out?
J.P.: The record's probably going to come out in the next two to three months. We've just got to find a label to distribute it. It's more or less done. We're going to start touring for pretty much a year. We've got a car that runs on grease.
O.C. Weekly: Are you ready for that? A year long tour?
J.P.: I'm ready for it. We really want to go down to Mexico for a few months and tour Latin America.
O.C. Weekly: How have your new members influenced the sound of your band?
J.P.: There' s more coffee in the cream. There's more of an R&B power-violence feel.
If you like this story, consider signing up for our email newsletters.
SHOW ME HOW
X
Newsletters
See for yourself below: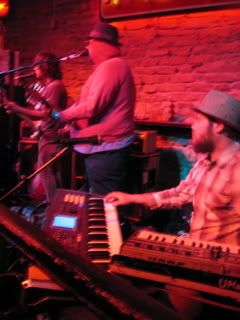 Below: Patrick wards off the evil eye.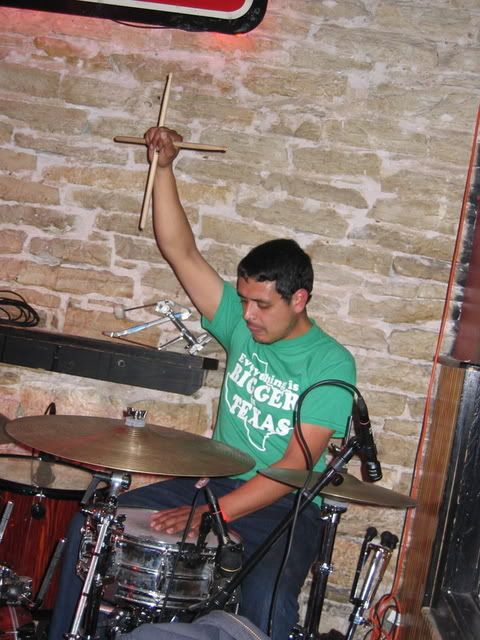 Below: Patrick dishes out the evil eye.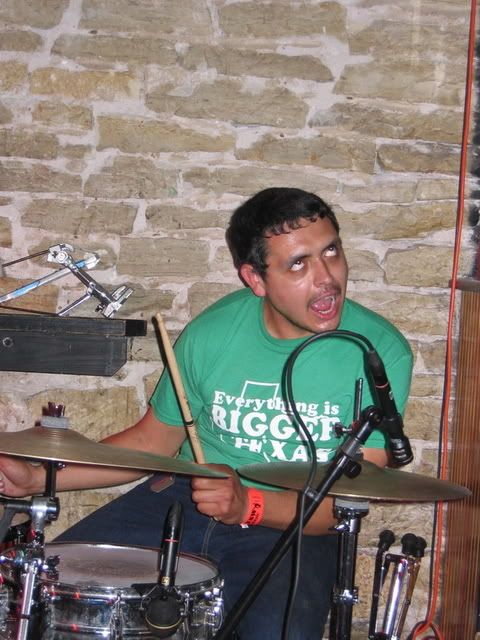 Also, someone reached through an open window and stole my beer during this show. Here at the end of SXSW, things have gotten desperate.