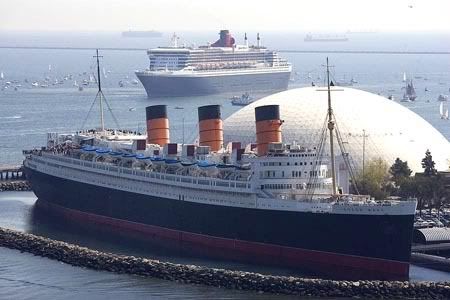 It seemed promising: big, historic cruise ship, southern California sun, Barrington Levy and a few other well-known reggae performers. But things quickly took a turn for the worse at the first annual "Reggae Festival By the Bay" this Sunday in Long Beach when we noticed the sign posted on the parking lot entry kiosks outside the Queen Mary: "Reggae show moved indoors!"
The show was supposed to be held on a green stretch of grass with views of Long Beach harbor and downtown. But the whole thing was moved indoors because it was rumored that promoters did not have the necessaray permits following last week's auction sale of the historic cruiseliner. So, concert goers in bathing suit tops and summer dresses were ushered into three windowless floors aboard the Queen Mary. Outside, sunlight poured forth. Inside, flourescent lights lined the ceiling and gray carpet lined the floors. Inebriated reggae fans meandered through the three levels and those buying a cocktail were corraled by metal gates into an awkward corner, nowhere near the performance stage two floors below.
If you like this story, consider signing up for our email newsletters.
SHOW ME HOW
X
Newsletters
We lasted an hour, opting for a stroll through the ship's majestic old decks and a drink in the art deco observation bar instead. From there, we enjoyed a sunset punctuated by the occasional sad thud from the show-that-could-have-been down below.