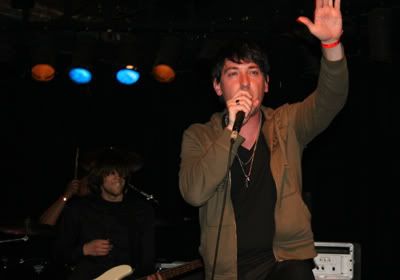 The minute I cut through the entrance curtains of the Glass House in Pomona Sunday night, it dawned on me how the setup looked more like an intimate rehearsal than an actual gig. In the darkness of the main hall, the venue's flashing strobes and swirling colored lights revealed. . .the floor, buffed and in perfect condition. Scattered clusters of fans contently kept their distance from the stage. It was a pretty rough scene.
That fact alone could have brought the performances of the headlining bands to a grinding halt, but it didn't.
The night belonged to the Louisville, Kentucky-based rock band People Noise (ex-members of VHS or Beta and Boom Bip), a wild pack of prog-rock thrashers from Corona called Casket Salesmen and Long Beach alt rock outfit The Prisoner's Dilemma. The two other bands that gave opening support were Jupiter and The Steelwells. Unfortunately, both bands had stepped off stage before I arrived.
With MTV-friendly swagger, The Prisoner's Dilemma entertained what was probably one of the larger crowds of the evening. With plenty of on-stage antics in their repertoire, TPD, led by singer Evan Dodd, didn't waiver in their efforts despite the slim turnout.
Casket Salesmen
By the time Casket Salesmen hit the stage, the faithful few in attendance seemed to perk up and take notice. Maybe it was the fact that at first glance they had the look of a Doobie Brothers revival project. But after the first few seconds of thrashing guitars on the song "I'll Buy That for a Dollar" for their debut album Sleeping Giants, singer/ guitarist Phil Pirrone and the gang put any preconceived notions about the band to rest. This was definitely the most high octane showing of spirit out of the three main bands that night.
People Noise
If you like this story, consider signing up for our email newsletters.
SHOW ME HOW
X
Newsletters
Closing out the evening was People Noise, a resilient bunch of guys who did their best to deliver their own brand of slow, moody rock that actually blended perfectly with the atmosphere of the evening as the crowd died down to a faint sputtering of claps in between songs. Singer/guitarist Zeke Buck took a departure from the disco funk inspiration of his old band, VHS or Beta, in favor of somber shoe gaze sound.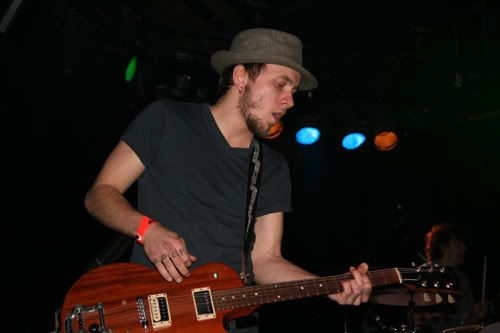 People Noise
All through the night, even in the face of adversity (or, er, attendance apathy), the musicians never threw in the towel. Though it was kind of hard to watch, the bands' perseverance was actually inspiring. It was a sting that almost all bands endure at one point or another. . .and hey, at least the janitor didn't start pushing a broom across the floor or anything. You could almost feel the sentiment of the band with each song completed: "Crowds? We don't need no stinking crowds!"
Casket Salesmen