OC Weekly Local Music Compilation 2008
Wednesday, November 26, 2008 at 10:22 a.m.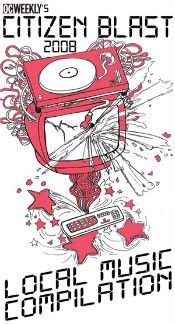 Whew! We made it. OC Weekly is proud to present the best of Orange County. Download one or download 'em all! (we recommend them all, of course)
1. Il Fait Beau by My Pet Saddle
2. Airplanes by Local Natives
3. Price Check by Audacity
4. That Look (remix) by Look Daggers
5. Babies From the Boom by Paperplanes
6. Man in the Middle by The Living Suns
7. Flatland by The Santiago Steps
8. I Can't Take by Mr. Xquisit
9. Slack by Thee Makeout Party
10. Stir Crazy by The Sweet Happy Band
11. Ain't It Grand by Vast Atlantic
12. Last Call by The Franchise
13. Venus & Virgo by Joshua Lanes
14. The Aftertaste by Cat Party
Compiled by Erin DeWitt.
Special thanks to Leslie Agan, Nate Jackson, Albert Ching, Ryan Cox, Amanda Parsons, Tom Child, Billy Agan and the Village Voice Web Team.
Get the Music Newsletter
Keep your thumb on the local music scene each week with music news, trends, artist interviews and concert listings. We'll also send you special ticket offers and music deals.