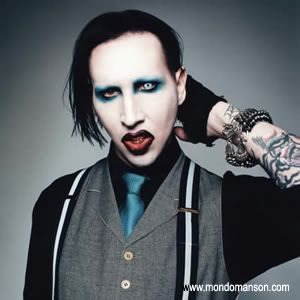 A lawsuit against Marilyn Manson was filed earlier this afternoon in Los Angeles Superior Court.
Keyboardist Stephan Bier (a.k.a. "Madonna Wayne Gacy") claims Manson filched millions of dollars from the band's earnings, squandering the money on his lavish lifestyle.
According to the New York Post's Page 6, the suit claims the band's money was spent on "sick and disturbing purchases of Nazi memorabilia and taxidermy (including a skeleton of a young Chinese girl)."
In a statement to MTV News just hours later, Manson (humorously) states he would never buy a girl's skeleton — it was actually a Chinese boy. The lawsuit also mentions Manson bought a "full skeleton of a 17th century man in a wheelchair."
Other purchases under scrutiny are ex-wife Dita Von Teese's $150,000 engagement ring and the couple's lavish Ireland wedding in 2005.
"I just don't have an explanation for it," Manson said, "It just seems like another ex-band member suing me and trying to assassinate my character as a means to financial gain."
If you like this story, consider signing up for our email newsletters.
SHOW ME HOW
X
Newsletters
Bier claims that in 1993, when the band was still known as Marilyn Manson and the Spooky Kids, founding members entered an agreement to share all profits (and losses) from the group's tours, album releases and merchandise sales in various proportions, Manson getting the largest percentage.
Throughout the years, original band members quit and were replaced with new musicians who weren't aware to the previous arrangement.
Bier is seeking unspecified general, punitive and compensatory damages, as well as lost salary, bonuses and attorney fees, which is believed to be in the excess of $20 million.
Manson claims all purchases were made with his own money, and, he says, he will defend himself against the allegations set forth in the suit.