Madonna Wants To See Your Moves
Wednesday, March 5, 2008 at 4:24 p.m.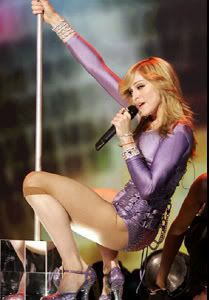 Tomorrow in Los Angeles, none other than Madonna will be holding open auditions for dancers. If you think you've got skillz, here is the information:
MADONNA: UPCOMING PROJECTS DIRECTOR: JAMIE KING RATE: PROFESSIONAL PAY DATES OF WORK: APRIL 2008 - TBD
THURSDAY, MARCH 6: MEN & WOMEN DANCER AUDITION FRIDAY, MARCH 7: CALLBACKS
DESCRIPTION: Please bring 2 pictures & resumes. Looking for strong & versatile dancers. Be prepared with everything from knee pads to different shoes… Should be comfortable doing most any style of choreography. Dress: look good hot, and able to dance.
DATE: Thursday, March 6, 2008 - MEN AND WOMEN DANCER
AUDITION TIME: 1:00pm - Female Dancers Bloc 6:45pm - Male Dancers - bloc
LOCATION: Thursday - March 6, 2008 Foresight Studios 3501 West Sunset Blvd. (big cross street is Hyperion) Hollywood, CA 90026 323-664-7900
STREET PARKING DATE: Friday, March 7, 2008 - CALLBACKS
Get the ICYMI: Today's Top Stories Newsletter Our daily newsletter delivers quick clicks to keep you in the know
Catch up on the day's news and stay informed with our daily digest of the most popular news, music, food and arts stories in Orange County, delivered to your inbox Monday through Friday.