Last Night: The Raveonettes and Be Your Own Pet at Detroit Bar
Monday, March 3, 2008 at 7:05 a.m.
The Raveonettes and Be Your Own Pet Detroit Bar March 2, 2008
Better Than: Spending your Sunday night at any other Raveonettes-less venue
Download: "You Want the Candy."
I am sorry to report that The Raveonettes only have one more SoCal show, so if you want to check them out, you're going to have to drive up to the El Rey Tuesday night. I suggest doing it.
Only one band opened the night up rather than the standard two. But a group with as much energy as Be Your Own Pet could've easily taken the place of three openers. Fiery vixen Jemina Pearl is a punker version of Gwen Stefani, and before the first half of the set was through, multiple members of the crowd were begging to be her pet. Pearl put in overtime and the audience ate it up.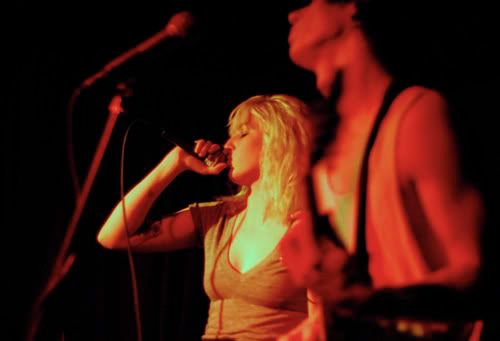 No song went over three minutes and most capped off at a 1:50. Songs like "Bummer Time" and "Food Fight" got the crowd moving and singing along. The oldest member of BYOP is 20 and I've never seen so many boozed up twenty-something's rock out so hard to teenagers. After their set they jumped in their mommy's van and zoomed off to another gig.
There is so much buzz surrounding the Raveonettes that I was somewhat skeptical that the live version would live up to their pristine recordings. It's amazing what two guitarists and a drummer can accomplish, however. The constant bass drum took place of the bass guitar and their distortion pedals give off that gritty New York underground rock vibe that was so prevalent in bands like the Velvet Underground.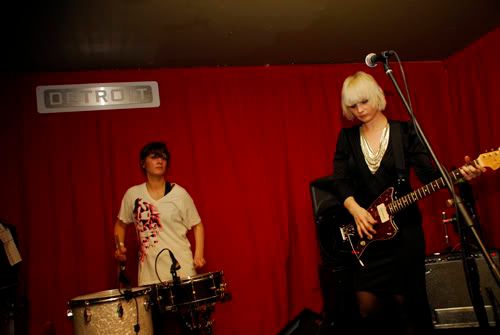 Sune Rose Wagner looks like a malnourished Lou Reed and even writes like him too. With songs dipping into themes of sex, drugs, and prostitution, it's easy to see how their songs are influenced by the New York legends. The Raveonettes blend many styles together to give off a one-of-a-kind sound, however. Fifties surf twang guitars riffs, 60s dramatic noir, and eerie psychedelic vocals were prevalent throughout their 16-song set. The pair played mostly tunes from their new album Lust Lust Lust, starting off with "Hallucinations" and ending with "Lust" before revisiting some of their older material. They then came back with "You want Candy," to much applause and fanfare before ending with their hit "Aly Walk With Me."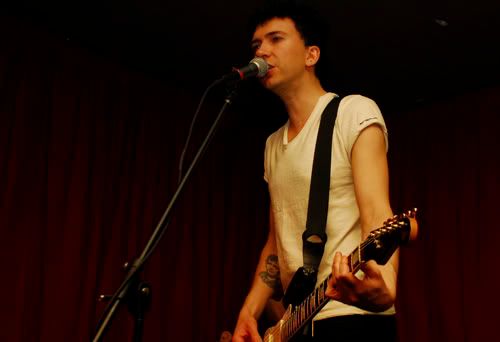 Critic's Notebook Personal Bias: The retro noir styling of The Raveonettes make them instantly worth listening to. Random Detail: Sometimes O.C. scenes suck. The crowd didn't even generate enough momentum for The Raveonettes to come back for an encore.
Get the ICYMI: Today's Top Stories Newsletter Our daily newsletter delivers quick clicks to keep you in the know
Catch up on the day's news and stay informed with our daily digest of the most popular news, music, food and arts stories in Orange County, delivered to your inbox Monday through Friday.
Recommended for You
Powered by SailThru