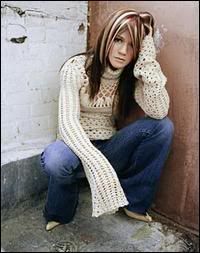 Poor Kelly, looks like the star has finally cooled.
Announced Thursday, Miss Clarkson's summer tour has been cancelled, she was scheduled to play Anaheim's Honda Center on Tuesday (refunds are available at point of purchase).
Her newest album, My December, was set to release in July but was leaked online early, getting less than stellar reviews. Her label released two singles, one right after the other, hoping to get some positive feedback from Mainstream America. No such luck. If you've heard either "Never Again" or "Sober", you know what I'm talking about: ehhh, they're OK. Some people are saying the new album is absolutely shiteous, I'm going to be nice and say it's forgettable. It definitely looks like crap when compared to Breakaway (One of the best post-breakup albums of all time, just ask any broken hearted female under 30).
Rumor has it Clive Davis offered her a whopping $10 million to cut 5 tracks and replace them with songs that had more hit potential. But, apparently, you can't tell Miss Independent what to do, she prided herself on having more creative input on this album.
Michael Rapino, CEO of Livenation made this statement Wednesday: "Ticket sales have not been what we anticipated and we came to the realization that we had bit off more than we could chew. In the end, we are in the Kelly Clarkson business and for that reason we believe that this decision will only benefit her and her fans in the longrun."
If you like this story, consider signing up for our email newsletters.
SHOW ME HOW
X
Newsletters
She's not even a person, she's a business now. Ouch.
If that's not enough stress, she also fired her manager Jeff Kwatinetz earlier this week.
Ever the optimist, Clarkson told her fans not to fret. "I promise you that we're going to get back out there as soon as is humanly possible to give you a show that is even better." She posted on her website.
Better than cancelling an entire tour at the last minute? I frikkin hope so!