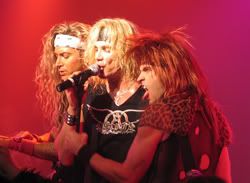 This week's giveaway: 15 pairs of tickets to Metal Skool on August 31st!
To win, e-mail ocpromotions@ocweekly.com with your NAME, AGE (this is a 21+ show), and PHONE NUMBER.
The show will be held at Sachi Bar in Long Beach: 6400 E. PCH, Long Beach, CA. 90803, corner of Pacific Coast Highway and 2nd Street
The venue people warn us that the dress code is strictly enforced: So dress to impress. Which means...
No - Beanies, No - Hats, No - Baggy Pants, No - Baggy Shirts, No - Shorts, No - Jerseys or Team Jackets, No - Flip Flops, No - Construction Boots, No - Chains, No - Sunglasses, No - Loose Clothing
If you like this story, consider signing up for our email newsletters.
SHOW ME HOW
X
Newsletters
Free Parking @ The Seaport Marina Hotel