Free Tix Fridays: Metal Skool
Friday, August 24, 2007 at 7:55 a.m.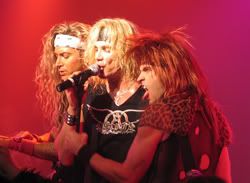 This week's giveaway: 15 pairs of tickets to Metal Skool on August 31st!
To win, e-mail ocpromotions@ocweekly.com with your NAME, AGE (this is a 21+ show), and PHONE NUMBER.
The show will be held at Sachi Bar in Long Beach: 6400 E. PCH, Long Beach, CA. 90803, corner of Pacific Coast Highway and 2nd Street
The venue people warn us that the dress code is strictly enforced: So dress to impress. Which means...
No - Beanies, No - Hats, No - Baggy Pants, No - Baggy Shirts, No - Shorts, No - Jerseys or Team Jackets, No - Flip Flops, No - Construction Boots, No - Chains, No - Sunglasses, No - Loose Clothing
Free Parking @ The Seaport Marina Hotel
Get the Music Newsletter
Keep your thumb on the local music scene each week with music news, trends, artist interviews and concert listings. We'll also send you special ticket offers and music deals.