Free Tix Fridays: Hellogoodbye & Say Anything
Friday, November 9, 2007 at 6:11 p.m.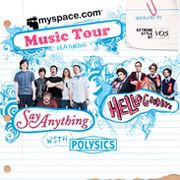 Want a pair of FREE tickets to Hellogoodbye & Say Anything at the Grove of Anaheim on Tuesday, Nov 20 at 7:30pm?
Be the first 15 to e-mail ocpromotions@ocweekly.com with your name, address and a phone number. Happy Friday!
Get the ICYMI: Today's Top Stories Newsletter Our daily newsletter delivers quick clicks to keep you in the know
Catch up on the day's news and stay informed with our daily digest of the most popular news, music, food and arts stories in Orange County, delivered to your inbox Monday through Friday.
Recommended for You
Powered by SailThru