Free Tix Fridays: Hellogoodbye & Say Anything
Friday, November 9, 2007 at 6:11 p.m.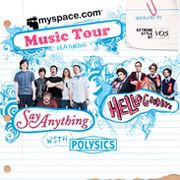 Want a pair of FREE tickets to Hellogoodbye & Say Anything at the Grove of Anaheim on Tuesday, Nov 20 at 7:30pm?
Be the first 15 to e-mail ocpromotions@ocweekly.com with your name, address and a phone number. Happy Friday!
Get the Music Newsletter
Keep your thumb on the local music scene each week with music news, trends, artist interviews and concert listings. We'll also send you special ticket offers and music deals.