Free the Robots' Live OC Debut
Wednesday, September 26, 2007 at 3:39 p.m.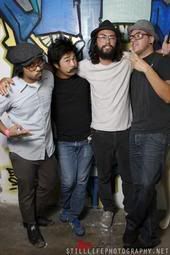 Alfaro (far left) and Nisco (second from right) will be soundbombing Detroit Bar tonight.
Recent OC Weekly cover boys Chris Alfaro (aka Free the Robots) and Phil Nisco (Black Lung Pop) will be joining forces tonight for their first live performance in an Orange County venue. The Santa Ana musicians are taking a break from getting their restaurant/club The Crosby ready in order to drop some scintillating sonic science for homie Dan Sena's Busywork night at Detroit Bar.
With Free the Robots' inventive jazz/psych/prog-accented instrumental hip-hop (he earned the honor of best local hip-hop artist in this week's best-of issue) combining with Nisco's nuanced experimental-rock instincts, some thrilling sparks should ensue. In a MySpace bulletin, Alfaro said: "Prepare for some weird shit! A bit of change from what you're used to... It's loud, it's moody, it's dirty, it's everything you want it to be, all in one live electronic session."
Get the Music Newsletter
Keep your thumb on the local music scene each week with music news, trends, artist interviews and concert listings. We'll also send you special ticket offers and music deals.