Feast Your Eyes on These BusyhalloweenWork Photos
Monday, November 5, 2007 at 6:06 p.m.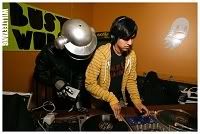 A Daft Punk and DJ Legit make a bunch of grown-ups in get-ups sweat.
As promised in my review of the last Busywork, Will Tee Yang's pictorial handiwork of this ludicrously fun gala event can be found here. Better late than never, and now you have almost a year to plan next year's costume, playas.

Get the ICYMI: Today's Top Stories Newsletter Our daily newsletter delivers quick clicks to keep you in the know
Catch up on the day's news and stay informed with our daily digest of the most popular news, music, food and arts stories in Orange County, delivered to your inbox Monday through Friday.
Recommended for You
Powered by SailThru