Feast Your Eyes on These BusyhalloweenWork Photos
Monday, November 5, 2007 at 6:06 p.m.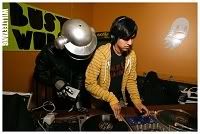 A Daft Punk and DJ Legit make a bunch of grown-ups in get-ups sweat.
As promised in my review of the last Busywork, Will Tee Yang's pictorial handiwork of this ludicrously fun gala event can be found here. Better late than never, and now you have almost a year to plan next year's costume, playas.

Get the Music Newsletter
Keep your thumb on the local music scene each week with music news, trends, artist interviews and concert listings. We'll also send you special ticket offers and music deals.