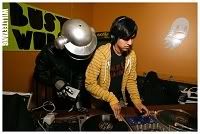 A Daft Punk and DJ Legit make a bunch of grown-ups in get-ups sweat.
If you like this story, consider signing up for our email newsletters.
SHOW ME HOW
X
Newsletters
As promised in my review of the last Busywork, Will Tee Yang's pictorial handiwork of this ludicrously fun gala event can be found here. Better late than never, and now you have almost a year to plan next year's costume, playas.