Eric J. Lawrence's New Time Slot
Monday, May 5, 2008 at 2:18 p.m.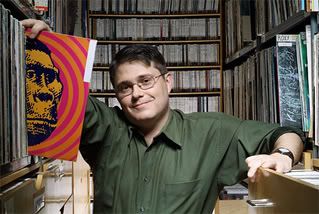 Radio jock Eric J. Lawrence schools you in the wee hours. Wee!
KCRW disc jockey Eric J. Lawrence—whom I profiled here—is moving his 12 a.m.-3 a.m. time slot from Monday/Tuesday to Sunday/Monday. It's a subtle shift, but I think a beneficial one, at least for me, as I stay up late more often on Sundays than I do on Mondays. Whatever your sleeping habits, you can check out Lawrence's most excellent show on www.kcrw.com, where it's archived.
As I stated in my Sprawl of Sound column, I think Lawrence is consistently the most interesting programmer among KCRW's talented roster. His depth and breadth of knowledge are astounding and his taste impeccable. Every show is a pleasurable education. You should check him out.

Get the ICYMI: Today's Top Stories Newsletter Our daily newsletter delivers quick clicks to keep you in the know
Catch up on the day's news and stay informed with our daily digest of the most popular news, music, food and arts stories in Orange County, delivered to your inbox Monday through Friday.
Recommended for You
Powered by SailThru