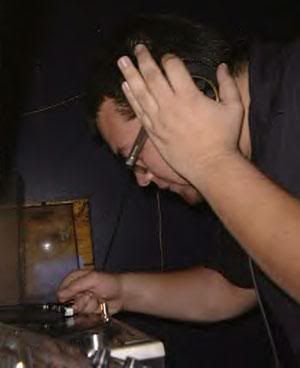 DJ Rodi is an experienced pro in helping homo sapiens get on the good foot.
Just received word that soul/funk selector supreme DJ Rodi and guests will be spinning New Year's Eve at Alex's Bar in Long Beach. All night. For free. Whoa. While most of you probably have your NYE plans set, for the undecided folks out there, this is great news.
I had heard people speak of Rodi—one of the founders of the nine years and running Good Foot night—in hushed tones, but, being a newcomer to the area, I'd never seen him spin. I finally caught the man (who now resides in Osaka, Japan) in action at Alex's on Christmas night, and he properly laid down the sort of amazing obscurities I just don't hear played often enough in clubs. Dude had me trainspotting like crazy during his entire set. I'm tenacious and annoying like that...
Among the tracks he busted out—many on 7-inch vinyl, for extra cred—were Peaches & Herb's "We've Got to Love One Another" (that's what I told this girl at the bar, but she wasn't buying it), Smokey Robinson's immortal "Get Ready" covered by reggae artist Delroy Wilson, "Papa Don't Take No Mess" by James Brown, something awesome by Joe Thomas, (I forgot to write down the title, damn it), and Woody Herman's "Fat Mama" (holy shit, I didn't know Woody Herman made killer funk tunes).
If you like this story, consider signing up for our email newsletters.
SHOW ME HOW
X
Newsletters
So if you have a small budget but a huge appetite for rare and precious soul, funk, jazz, reggae, dub, dancehall, bossa nova, hip hop, etc., Rodi & co. at Alex's could make for a smashingly frugal transition into 2008.