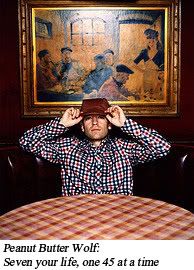 From June 10-16, L.A. disc jockey and Stone Throw Records honcho Peanut Butter Wolf (Chris Manak) is attempting what could be interpreted as the decathlon of DJing. Over seven consecutive nights, he'll be spinning a different style in a different Los Angeles club. Making the feat even more impressive, if only through the sheer amount of weight he'll be lugging around town, he'll be using vinyl (sorry, but hitting "shuffle" on your iPod is not DJing).
"The idea came when I was moving last month," Wolf says on Stones Throw's website. "After 28 years of record buying, I started organizing my records into genres for the first time. It occurred to me that LA is that rare city where as a DJ, you could do a whole week-long tour in a 10-mile radius, where all kinds of people could appreciate all styles of music."
Below are PBW's club dates and the genres he'll be dropping on the City of Angels.
If you like this story, consider signing up for our email newsletters.
SHOW ME HOW
X
Newsletters
Day 1: Sun, June 10 The Do-Over @ Crane's Tavern - '80s early house Day 2: Mon, June 11 Funkmosphere @ Carbon - '80s rare soul & boogie Day 3: Tue, June 12 Cinespace - '90s hipster ironic badd covers Day 4: Wed, June 13 Dub Club @ The Echo - '70s dub & roots reggae 45s Day 5: Thu, June 14 The Root Down @ Little Temple - '80s hip-hop 45s Day 6: Fri, June 15 Firecracker @ Grand Star - '70s Afro-Latin & disco Day 7: Sat, June 16 Funky Sole @ Star Shoes - '60s deep funk 45s Photo by: João Canziani