Dirty Money's Jay Cash: Bank on his taste.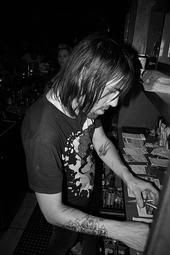 I lost my Dirty Money cherry last night and am wondering why I waited so long to do so. The Wednesday weekly at Avalon gave me a much-needed dose of hot new electronic dance music that was mostly well-mixed and intelligently selected. Sure, lots of people were dancing on the club's tiny floor, but you should've seen me taking notes and trainspotting. Man, it was breathtaking...
Helmed by three DJs—Tea-Long, Jay Cash and BbGunz—Dirty Money breaks you off tasty chunks of hip club bangers and remixes/edits of old classics (I heard revamped versions of Grandmaster Flash and the Furious Five's "The Message" (done in sexy-as-hell cosmic-disco style), PM Dawn's "Set Adrift on Memory Bliss" and Tom Tom Club's "Wordy Rappinghood"). The usual post-Daft Punk, ruff electro-disco suspects (Justice, Uffie, other Ed Banger artists) whoomped us upside our heads, of course, and indie kids were accommodated with cuts by TV on the Radio, CSS, Le Tigre and Go! Team. Tea-Long segued a morbidly stately Knife track into Mims' "This Is Why I'm Hot" (or else my note-taking became really garbled at this point). Jay Cash dropped Switch's incredibly infectious "Making Me Money," which should be your new theme song, if you had any cents. And I believe I heard George Kranz' evergreen, sui generis Teutonic tribal jam "Din Daa Daa." It's not a true night out unless I hear that track, which I've been loving since before you were born.
The Dirty Money jocks throw down with panache and cleverness, though this vinyl purist deducts points for their use of Serato. But ultimately track selections trump the damned formats on which they're played, and in this regard Dirty Money deserve yours, though the night is free. Such a deal.
You'll be reading more about Dirty Money in a future Sprawl of Sound column, which is free, too, by the way. Y'all don't know how good you have it...
If you like this story, consider signing up for our email newsletters.
SHOW ME HOW
X
Newsletters
Avalon, 820 W. 19th St. Costa Mesa, (949) 515-4650