Crate Expectations
Monday, June 4, 2007 at 4:06 p.m.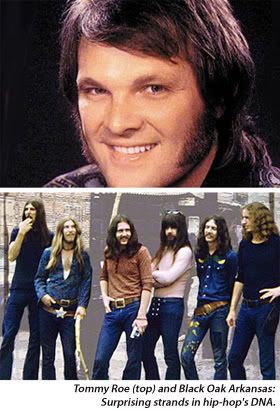 The Crate Kings site is a national treasure. Scratch that: it's an intergalactic treasure. Somebody (or a team of individuals perhaps) with a lot of time on his hands and the kind of obsessiveness I admire almost more than anything else in the world encoded to MP3 snippets of 300 breakbeats that form the foundation of hip-hop. Hello, Mr. Nobel? I would like to nominate the cat(s) behind this Herculean project for one of your medals. Please look into it.
Scrutinize the names here and you'll see many of the usual suspects associated with hip-hop's genesis (James Brown, the Meters, Sly & the Family Stone, Funkadelic, Kool and the Gang, Billy Squier) and some totally WTF? entries (Billy Joel, Annette Peacock, Thin Lizzy, Christine McVie, Black Oak Arkansas [bottom photo], Spooky Tooth, Turtles, Tommy Roe [top photo]). This cornucopia of diverse artists illustrates hip-hop's mongrel nature and pays tribute to the original producers and DJs who could locate minuscule segments of greatness from sometimes otherwise dud songs lurking in unexpected realms of the sonic universe.
The guy(s) behind Crate Kings are essentially shattering hip-hop's mystique (what little there is that's left, anyway), but it's all for the greater good of humanity. Many of these beats are still being used today, and even if they're totally played out in a sheer numerical sense, they never exhaust their headnod-ability. Give the drummer some, but don't forget to break off a slice for the diggers who isolated their handiwork for posterity (and posteriors).
Get the ICYMI: Today's Top Stories Newsletter Our daily newsletter delivers quick clicks to keep you in the know
Catch up on the day's news and stay informed with our daily digest of the most popular news, music, food and arts stories in Orange County, delivered to your inbox Monday through Friday.
Recommended for You
Powered by SailThru