Coachella lineup to be announced today
Monday, January 21, 2008 at 12:58 a.m.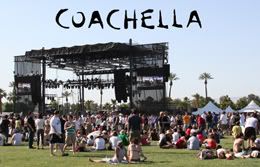 That's the word coming from a story in today's LA Times. Confirmed: My Morning Jacket, Rilo Kiley (who've never been as good as they were the night I saw them years ago at Chain Reaction--so long ago, the Weekly archives don't go back that far!), Jack Johnson, the Raconteurs, the Verve (of "Bittersweet Symphony" fame? Really? Who took their one hit and laughably thought they could sell out the then-Arrowhead Pond with it back in 1998? I know, I was there.)
But it's weird. The lineup will be announced at a news conference in Mexico City, and it's not even the main story--that title goes to a concurrent announcement about a Coachella-esque New Jersey fest being put together by Paul Tollett & co. Radiohead is apparently confirmed for that, but we'll all know more about all this sometime later today. We think.
Get the ICYMI: Today's Top Stories Newsletter Our daily newsletter delivers quick clicks to keep you in the know
Catch up on the day's news and stay informed with our daily digest of the most popular news, music, food and arts stories in Orange County, delivered to your inbox Monday through Friday.
Recommended for You
Powered by SailThru