Club Pick: Chris Murray Combo at The Continental Room
Wednesday, September 24, 2008 at 3:19 p.m.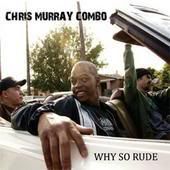 Rude boys and girls looking to get wild this weekend will definitely see something special in the Chris Murray Combo at Downtown Fullerton's Continental Room. Despite being Canadian, Murray has more than enough chops to pacify one of OC's most soulful culture coves. This well traveled musician has spent years crafting his authentic ska sound on stages from his hometown of Toronto to the shores of Japan. He's shared bills with a respectable roster of reggae wise men, including Jamaican music legend Prince Buster. A frequent guest at Hollywood's Knitting Factory, Murray and his combo of talented hepcats (Ben Farrar on drums and Eddie "Chiquis" Lozoya on bass) definitely know how to get a party going. He'll be jammin' all night so feel free to stumble in and get your skank on...maybe even take one home.
Get the ICYMI: Today's Top Stories Newsletter Our daily newsletter delivers quick clicks to keep you in the know
Catch up on the day's news and stay informed with our daily digest of the most popular news, music, food and arts stories in Orange County, delivered to your inbox Monday through Friday.
Recommended for You
Powered by SailThru