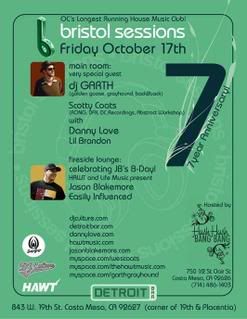 Normally, a good full-body stretch isn't totally necessary before heading out the door on a Friday night. But after only a few hours spent bouncing to the beats of Bristol Sessions at Detroit Bar, you'll be glad you spent an extra minute loosening up those quads. Especially if you consider that OC's longest running House music club is celebrating all night for its seventh anniversary. And they're definitely going big on this one. DJ Garth, a pioneer of San Francisco House music, is dropping in to grace us with some turntable wizardry with Jason Blakemore, local favorite (and winner of the Weekly's Best Club DJ category in our recent Best Of issue) Scotty Coats and many more.
This non-stop genre bending puree of soul and electro usually takes place on the third Friday of every month. If two rooms packed with pulsing neon energy, world class DJs and grinding bodies aren't enough to get you to dance up a storm at Detroit, then chances are you were probably planning on staying home anyway.
If you like this story, consider signing up for our email newsletters.
SHOW ME HOW
X
Newsletters
Detroit Bar 843 W. 19th St. Costa Mesa, CA 949-642-0600