Club Call Sick On Friday
Saturday, September 8, 2007 at 4:44 p.m.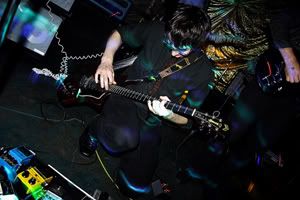 UPDATE: Club pix are up. Thursday night was a little bit different from the usual dance party that is Call Sick On Friday.
It brought the best of both nightlife worlds: the beginning was dedicated to live music, the end belonged to digital.
Held at Que Sera, this week's Call Sick opened with Long Beach darlings Repeater, who did an amazing set of their frenzied, cerebral brand of shoegaze.
Around Midnight the DJ took over and spun the crowd into a frenzy with smashes and remixes of early 90's top forty (remember 20 Fingers?), old skool hip hop like Notorious B.I.G., mid '90s Madonna, turn of the century Daft Punk and last years Fergie.
The crowd was as chic and dashing as all Call Sick events are, my favorite photographer Fever Dragon will have pictures for you Monday.
Call Sick On Friday is held the first and third Thursday of every month at Que Sera in Long Beach. www.myspace.com/callsickonfriday
Get the ICYMI: Today's Top Stories Newsletter Our daily newsletter delivers quick clicks to keep you in the know
Catch up on the day's news and stay informed with our daily digest of the most popular news, music, food and arts stories in Orange County, delivered to your inbox Monday through Friday.
Recommended for You
Powered by SailThru