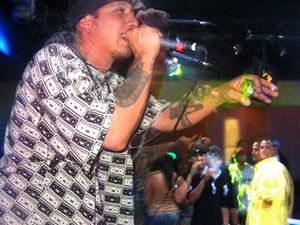 UPDATE: Photos of F.I.L.T.H.E.E. and co are up!
"Blaze it up!" yells flashy front man F.I.L.T.H.E.E. ( say that five times fast! ) a.k.a Brickmanraw, and no, he's not referring to the music, but apparently, "They said it's ok!"
What was ok? I wondered.
Suddenly a disembodied hand appeared from the small crowd gathered in front of the stage, holding much too intricate a pipe - ablaze with that sticky icky Cali green as a blunt began its' rounds along the very empty, very spacious dance floor. He grinned widely and devilishly, still rappin', as sweat poured down his face - microphone on the verge of slipping down his throat.
Security finally showed, but not before everyone was high as a kite.
Actually I'm going to guess that they didn't say it was ok, Mr. F.I.L.T.H.E.E., but you gave it one hell of a shot! Absolutely amusing as hell, this guy.
Never in my wildest dreams could I have imagined such an entertaining hip hop event as this in my hometown of Garden Grove. Why fate would gather a slew of talented rappers together at Belluno's/Citrus Lounge ( of all places ) on the corner of Harbor and frickin' Chapman, is beyond me.
The venue was lovely and the dance floor very spacious - sprinkled with little tables and comfy sofas (available for those with the most bling) to rest on. The lighting was colorful and gave the entire room a wonderful splash of energy. Both bartenders and drinks made the grade. The only thing lacking were the throngs of people that were supposed to show.
If you didn't show, you missed out. Plain and simple.
Starting the evening off propa style were HumanBeings, hailing from Venice. A rowdy bunch of five with DJ Laloe on the ones and twos. Incredible stage presence. Rough, rugged and intimidating as hell - "Get in here you mutha fuckas!" they screamed to the handful of people drinking outside on the patio. No response. No matter. They owned that stage and didn't give a fuck.
Other highlights were Parallel with DJ Deprave. Also the edgy reggae sounds of the Razateca Movement - beats laced with latin spice, sultry and soulful. Very good.
With the major highlight award going to headliner, F.I.L.T.H.E.E. of F.I.L.T.H.E.E. Immigrants, whose resume includes catchy tunes with the likes of Natedogg and ICE-T. He even invited the other rappers on stage with him for an all out freestyle battle amidst the clouds of pot. At the end of the evening, he staggered out to the Hummer limo then yelled to everyone that had ears - he was on his way to see Warren G - still smokin' a blunt!
If you like this story, consider signing up for our email newsletters.
SHOW ME HOW
X
Newsletters
Damn, that shit is gangsta.
Overall, the night went well with few hitches - just the technical difficulties of microphones not working that had rappers asking, "what the fuck is wrong with this piece of shit?!" This place has incredible potential and promises the likes of well known headlining acts to come. All I know is that the 30 or so of us gathered at the front of that stage had an amazing time. Those of you who stayed home on a Thursday night or those too afraid to leave the patio, did not.
Garden Grove, you better get ready!
Belluno's. 12361 Chapman Avenue. Garden Grove. Info: 714.697.0142