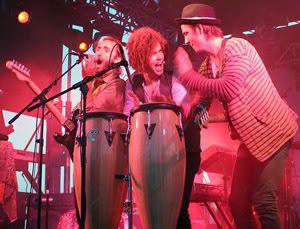 Cavil at Rest: Love congas all. Photo: Adrienne
Los Feliz quintet Airborne Toxic Event play the kind of peppy, downcast rock I always seem to hear during my infrequent visits to Urban Outfitters. This sort of Strokes/Arctic Monkeys/Bloc Party steez goes in one ear and out the other without leaving much of an impact on your correspondent. I wish ATE well, but they're definitely not my bag, although the fine young things in the surprisingly large Monday night crowd, uh, ate it up. Within a year, ATE will be extremely popular and, I predict, laughing in my face over this dismissal. Just you watch...
Cavil at Rest, on the contrary, hark back to a time (early '70s) when pop groups would casually bust intricate progressive-rock moves, when melodies bore sophisticated arrangements and three-part vocal harmonies, when songs often contained surprising dynamics and tricky key changes. This Mission Viejo five-piece exhibit an effusive elegance, a potent sense of fun, an infectious camaraderie and an easy chemistry. Their positive energy somehow doesn't cloy. When Ryan Hahn (vocals/guitar/keys) gushes between songs, "We're so happy to be doing this," he comes off as genuinely grateful rather than patronizing.
Cavil at Rest channel their instrumental fluency into catchy songs, not indulgent displays of technical proficiency. That and the fact that they're good-looking dudes with charming personalities (what a high percentage of hotties in the audience, damn) betoken a promising future for Cavil at Rest, who'll be spending much of December working on their debut album as they ponder a studio and producer for it.
If you like this story, consider signing up for our email newsletters.
SHOW ME HOW
X
Newsletters
DJ Robert Acosta almost spoiled the show for me, though, when he said, "That guy's voice [Taylor Rice's] reminds me of Christopher Cross. I mean that in a good way." But seriously, check out Cavil at Rest next time they play out, dubious yacht-rock comparisons notwithstanding.