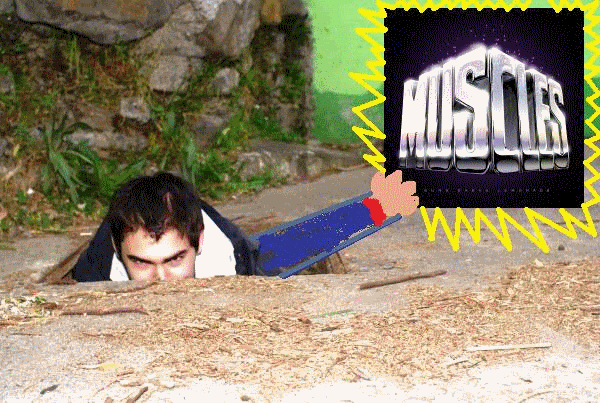 Muscles from Melbourne: kinda weak.
Halloween: It's really more for adults than for kids, isn't it? It astounds me how much effort grownups put into their costumes, simply to have ridiculous amounts of fun getting wasted as they take mini-vacations from their own personae. The overflow gathering at Detroit Bar last night proved this conclusively—and reminded me that I need to get a camera, damn it. (I hope to get some shots by OC paparazzo Will Tee Yang later.)
Sure, you had your share of sexy nurses, throwback jocks, fake afros and faux mullets (mullets = instant and eternal comedy), the Daft Punk-looking guy, the "Dick in a Box" dudes, the S&M brigade (some were still working the kinks out of their getups...), A Clock Orange droog, gangs of masked wrestlers, wizened wizards, battalions of hoochie mamas and the viking motherfucker who almost poked out my right eye with his horned helmet. I saw the spittin' image of Amy Winehouse and a white boy dressed in the red warmups, Adidas kicks and Kangol hat of LL Cool J circa 1985. I spotted a guy wearing a box boasting the logo and silk screen of some kind beverage with an Italian name (Franzini, maybe?). I asked him how he was going to piss; he chuckled and said, "I haven't thought of that." D'oh! But the winner for most absurd costume was the young man who came encircled in a shower curtain, complete with a rod halo. Every time I peered through the curtain, he looked sad.
What about the music? Eh. Busywork honcho Dan Sena's set hit many hand-raising heights apropos for the celebratory mood (stompin' remix of Pink Floyd's "Another Brick in the Wall," Federico Franchi's unstoppable 2007 anthem "Cream," Underworld's "Born Slippy" and... the Cult's "She Sells Sanctuary"). In the back room, I heard Matthew Dear's "Put Your Hands Up for Detroit," which surprised and pleased the hell out of this Motown native. And it's always a pleasure to hear Jaydee's deathless rave stealth bomb "Plastic Dreams." But I also heard Ready for the World's "Oh Sheila" segued roughly into New Order's "Blue Monday," both of which have been played to death over the years (we need a moratorium) and the hugely overrated "Don't You Want Me" by Human League. I could also do without hearing Daft Punk's "Technologic" for about a year, too.
The night's biggest letdown, however, was Australian producer Muscles. His live set consisted of inane, rudimentary electro-disco, topped by his own aggravating, hoarse bellow. He drove me out of the club and over to Avalon Bar, where I had the good fortune to see some wiseguy sporting a massive fake afro and an inflatable cock-and-balls set that must've measured six feet long. Very realistic.
If you like this story, consider signing up for our email newsletters.
SHOW ME HOW
X
Newsletters
Halloween—it never gets old, even if its celebrants do...