Beatallica: Because the Beatles & Metallica Need the Money
Monday, June 18, 2007 at 2:49 p.m.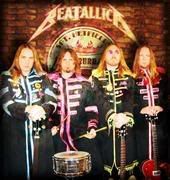 Ever wonder what Beatles songs done in Metallica's heavy, hyper style would sound like? Me neither. But the clever buggers in Beatallica thought this would be a smashing concept; hence the forthcoming release of Sgt. Hetfield's Motorbreath Pub Band (out July 10 on Oglio Records). The group consist of Jaymz Lennfield, Grg Hammetson, Kliff McBurtney and Ringo Larz. They put the pun in punishment.
As is the case with most of these novelty projects that aren't Spinal Tap, the song titles are the most enjoyable aspects of Beatallica: "...And Justice for All My Loving," "Leper Madonna," "Blackened the U.S.S.R.," "Hey Dude," "Helvester of Skelter," etc. Sgt. Hetfield's is essentially a comedy album, and therefore is worth perhaps one spin... unless you really like Metallica and the Beatles to an unhealthy degree. In which case you'll be happier than Paul McCartney perusing his bank statement.
Beatallica will be playing the San Diego County Fair June 22-24.
Get the ICYMI: Today's Top Stories Newsletter Our daily newsletter delivers quick clicks to keep you in the know
Catch up on the day's news and stay informed with our daily digest of the most popular news, music, food and arts stories in Orange County, delivered to your inbox Monday through Friday.
Recommended for You
Powered by SailThru