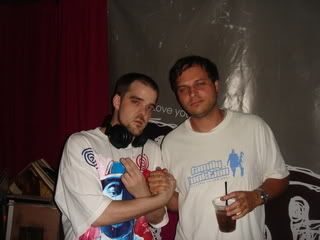 DJ House Shoes and Brian Gillespie at Detroit Bar. Photo by DJ Edouble
First thing I heard as I approached Detroit Bar was Seals & Crofts' 1973 hit "Diamond Girl." At Abstract Workshop, one of OC's preeminent hip-hop nights? I didn't think baby-boomer nostalgia was part of its equation, but when I actually slipped inside the venue, I could hear some wicked J Dilla beats splattering over the Lite FM chestnut. Dude responsible for the killer juxtaposition was DJ House Shoes, a Detroiter now based in LA. Despite letting two—two!—tracks run out into dead air (well, at least he was playing vinyl), House Shoes moved the somewhat thin crowd with seasoned skill. Later he dropped Joni Mitchell's "Big Yellow Taxi" and it was the dopeness. Kudos to any DJ, hip-hop or otherwise, who flips the bird to conventional wisdom and works the unexpected into sets.
House Shoes was wearing an XXL T-shirt with Dilla's likeness on it and much of his set consisted of that late legendary beatmaker's handiwork. I didn't notice anyone complaining about House Shoes' Dilla-heavy set; if you have a problem with Dilla, you have a problem with hip-hop.
If you like this story, consider signing up for our email newsletters.
SHOW ME HOW
X
Newsletters
Blu & Exile followed, bringing some West Coast backpacker bounce to proceedings. Exile scratched with authority and Blu rapped with authority, recalling Golden Age greats like the Pharcyde and Souls of Mischief, but they played too long. Also, Blu and his MC sidekick, Ta'raach, spent way too much time coaxing the crowd to "make some motherfuckin' noise," which is my biggest beef with hip-hop shows.
I understand how performers like to feed off crowd energy, but I think the truly gifted artists don't need to cajole/badger/beg audiences to generate noise. If you have the skills, people naturally will acknowledge them with appreciative sounds. Bag the tedious pleading and start killing it on the mic and decks. That's how you earn respect. (Anybody feelin' me on this? I realize I'm shouting into the void here and hip-hop artists will continue with this tiresome practice until kingdom come, but it feels good to vent.)
Due to Blu & Exile's stage-hogging, Detroit's Brian Gillespie (aka DJ Starski) went on at 1:20 a.m. to a paltry crowd of about 30. I felt bad for the veteran DJ/label owner, but he wasted no time getting down to business, bringing a slew of hot, high-NRG funk, soul and Motor City hip-hop. The remaining troopers busted moves with amazing vigor to tracks like Zapp's "More Bounce to the Ounce" (funkiest song of the '80s), Ronnie Hudson's "West Coast Poplock," Indeep's "Last Night a DJ Saved My Life," Loose Joints' "Is It All Over My Face" and a boogaloo piece that sampled James Brown's "Give It Up Or Turn It Loose." It's a pity Gillespie only had 30 minutes to spin, but he definitely made the most of his half hour. I hope he returns to OC and gets another chance to dig deeper into his crates.
(Photos to come as soon as MySpace gets fixed.)