* * *
"Okra! Sprouts! Where's the togarashi?" asks Quinn, who's wearing a white chef's coat, jeans and a lime-green rubber watch as he stands at the steel counter, inspecting each plate as it passes through before a server takes it away.
It's Wednesday evening, and guests are filling the restaurant. Coheed and Cambria's "Anything for You" blares from a speaker in the kitchen. The other chefs don lime-green sweat bands on their foreheads as a joke, poking fun at Quinn's television foray. They call him "Hollywood" because he always seems to be talking to fans and reporters.
John Gilhooley
The Playground chefs (from left): April Ventura, Frank Deloach, Jason Quinn, Brad Radack, Natasha Schneider, Fawn Mathers and Christina Nguyen
Location Info
220 E. 4th St.
Santa Ana, CA 92701
Category: Bars and Clubs
Region: Santa Ana
Details
The Playground,
www.playgrounddtsa.com
. Open Wed.-Sat., noon-close; Sun., brunch, 10 a.m.-2 p.m.; supper, 5-9 p.m.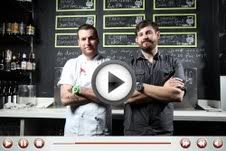 VIDEO: See our video interview with chef Jason Quinn.
Quinn works the room, leaning over communal dining tables and talking to guests about the food. Sean Walsh of Newport Beach is a "Lime Truck junkie" and now comes to the Playground three or four times per week. He's most obsessed with the Brussels sprouts. "Ahhh, they're crunchy, earthy, organic, healthy," he says. "There's a twist of something daring that I can't figure out."
The Playground recently started serving Death Row Dinners: meals people would request if it were their last day on Earth. "Very few people would want their last meal to be Le Bernardin's 17-course tasting menu," Quinn says. "You want mom's cheesy potatoes. Ham. Roast chicken. Soul-soothing food."
He also started Sunday Suppers, for which the chefs use up all the remaining ingredients from the week to create a mishmash of surprise courses.
Though his first restaurant is only three months old, Quinn is already envisioning the next endeavor. "I would love to have a place that specializes in fried chicken or omakase sushi or our renditions of classic sandwiches," he says. His eyes are set on a beautiful brick building in downtown Santa Ana that once housed the offices of the Gas Co. No lease has been signed as of yet, but Quinn would like to launch a "very unique, upscale restaurant" there, saying that "everyone wants it to happen."
Tonight, Quinn offhandedly mentions to DeLoach that he fainted the night before while in the bathroom. On his way to work that morning, he ran a red light without even noticing.
"It's hard to imagine that we could keep going at this pace," says Quinn. "It's unnatural, and we shouldn't be doing it this hard. But we want to because we can and we're good enough to."
So Quinn soldiers on. The day before the Playground opened last November, the staff got matching forearm tattoos: "You, me & all our friends" has become the restaurant's mantra. Quinn has another tattoo that reads, "This too shall pass." He got it after attending his grandmother's funeral and learning that it was one of her beloved phrases.
"A lot of people see it as bad things will pass, but the way I see it, all this success, it can go away," he says. "So enjoy it while you can."
This article appeared in print as "Meet You at the Playground: Inside the hyperkinetic career of novice chef-turned-cooking star Jason Quinn."