The Lime Truck sped to the $100,000 winner's prize the same way it did on the streets of Orange County—by making fans out of a diverse array of everyday eaters hooked on its balls-out approach. But when the trio returned home, Quinn and Shemtob needed a break from the truck and each other. To Shemtob, it had become apparent Quinn "really needed a restaurant." He would make dishes he loved in the Fullerton test kitchen, but they wouldn't turn out the same way when he tried to re-create them in the cramped truck. Quinn says he, too, knew that for him, "a food truck was not going to be the end-all."
By January 2011—before the show had even aired—Quinn and Shemtob had parted ways. "Jason was a lot of the heart of the company," says Shemtob, who now manages three Lime Truck luxe loncheras. "But we didn't work that great together."
Quinn was already scheming for his own place. He wanted to use his $27,000 share of the reality-show winnings to help to open a burger restaurant, calling it the Playground. While that idea "lasted not even two weeks," the name stuck. The new restaurant was going to be a "playful, joyful place," not "fine-dining Seriousville."
John Gilhooley
The Playground chefs (from left): April Ventura, Frank Deloach, Jason Quinn, Brad Radack, Natasha Schneider, Fawn Mathers and Christina Nguyen
Location Info
220 E. 4th St.
Santa Ana, CA 92701
Category: Bars and Clubs
Region: Santa Ana
Details
The Playground,
www.playgrounddtsa.com
. Open Wed.-Sat., noon-close; Sun., brunch, 10 a.m.-2 p.m.; supper, 5-9 p.m.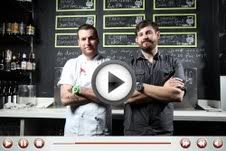 VIDEO: See our video interview with chef Jason Quinn.
He found a former Mexican seafood restaurant on the corner of Fourth and Spurgeon streets in Santa Ana and transformed it into an industrial-style tavern with beer taps on the wall, acid-washed-copper detailing and exposed black piping overhead. Family members jumped in on the business: Bob became the restaurant's facilitator, while Jason's brother, Brandon, worked as the floor manager.
Next came assembling a kitchen team, which Quinn cobbled together using referrals from chefs, friends, applicants and even his ex-girlfriend.
"I learn so much here, and I get yelled at every day," says Natasha Schneider, who was stuck in culinary-school hell until Quinn invited her to join the Playground. "I just want to be good."
Quinn pounded into the crew his restaurant philosophy, which oozes out of every entrée, appetizer and dessert. The Playground burger, a mix of 50 percent grass-fed wagyu chuck, plus brisket and dry-aged American rib-eye, is cut by hand and ground multiple times. Butter is hand-churned. A S'mores tart has a homemade marshmallow fluff brûléed to order.
The restaurant became a sensation almost immediately—and then came the meltdown.
Last month, Yelper "Naseem M." of Santa Ana wrote a scathing review of the Playground, complaining about the mandatory 3 percent gratuity, its refusal to cook beef any way other than rare or medium-rare, and a flurry of other details ("Sous vide chicken? Seriously? Flavorless and a direct copy of David Chang at Momofuku—except Chang is brilliant"). But for Quinn, it was the reviewer's line about his family "walking around endlessly trying to be restauranteurs [sic]" that set him off. The chef fired back, "How fu*king cheap are you?" and "I WISH I WOULD HAVE PAID FOR YOUR BEERS AND KICKED YOU THE FU*K OUT OF MY RESTAURANT" He closed with "Burn in hell."
"I did everything I could to make them happy," Quinn says. "I told them they did not have to pay. They let themselves leave angry. They ruined their own time."
The story quickly went viral, with people debating whether Quinn crossed the line. He's sure he lost customers because of his response, but the week after the ordeal appeared in the news, the Playground was more packed than ever, with more than 30 people approaching him to profess they admired what he did. As an added act of defiance, the Playground added "Burn In Hell" Shrimp to the menu.
"Everyone who works in hospitality dreams of telling someone to fuck off and getting to tell that customer who's awful, 'You know what? You suck,'" Quinn says, his voice booming and hands flailing. "I was just pissed-off and believe in what we do. We will not be taken prisoner. We have a responsibility to our customer, and the customer is always right—until they are wrong. We're gonna cook the best food we know how, and the people who understand it will love us, and we believe that will be enough to support us, and if it's not, we'll go down swinging, knowing we tried our best, and I can sleep at night."
* * *
RULE NO. 4: PEOPLE MUST CARE
By care, he expects his kitchen staff to work the same grueling 70-hour workweek and give the food the same excruciating attention he does.
Quinn holds up a scarlet turnip that came from County Line South near Indio, then carves out with a knife any speck of dirt or imperfection. The process is impossibly slow, but simply washing it would make it lose its luster. "This thing came from a seed in the ground," Quinn says. "It was nurtured by a woman who really, really cared. We have the opportunity to make it better than it was, which is a really, really cool thing to do."
He adds, "With everything, we want to tell the story of it. Everyone's had a turnip before, but, wow, this is a scarlet turnip. There's a reason why people come here, and it's not to have run-of-the-mill food."