A guest once requested an order that contained mushroom risotto, a 10-ounce filet, 6-ounce lobster tail and bacon-balsamic Brussels sprouts. "The plate looked like shit," he recalls.
In early 2010, Quinn got a phone call from Daniel Shemtob, who told him about his plans to start a food truck. The two had become friends as teenagers while Quinn was working at the Starbucks across the street from UC Irvine. Shemtob would come in and linger, and to help time pass, Quinn would challenge Shemtob to do such things as take a quadruple shot of espresso—and he'd do it. "We've always had a love-hate relationship," Shemtob says.
The 23-year-old Shemtob had watched the success of Los Angeles food trucks such as Korean taco sensation Kogi, as well as those of such OC-based ones as Piaggio On Wheels and Barcelona On the Go. The entrepreneurial Shemtob thought he could launch one, too, but he needed someone to create the menu. He asked Quinn because he was the only chef he knew.
Location Info
220 E. 4th St.
Santa Ana, CA 92701
Category: Bars and Clubs
Region: Santa Ana
Details
The Playground,
www.playgrounddtsa.com
. Open Wed.-Sat., noon-close; Sun., brunch, 10 a.m.-2 p.m.; supper, 5-9 p.m.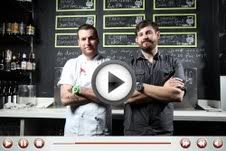 VIDEO: See our video interview with chef Jason Quinn.
Ready for a new venture, Quinn was eager to be a part of it, but he didn't want to simply craft recipes for other cooks to botch. "I said, 'It's not going to work like that. Let me do it with you,'" he says.
* * *
RULE NO. 3: THERE'S A 3 PERCENT GRATUITY ADDED TO ALL GUEST RECEIPTS
The policy is typed out at the bottom of each menu. All the money goes strictly to kitchen employees. "We firmly believe that chefs are underpaid, and this is a way of saying, 'Thank you for your hard work,'" Quinn says. "It's a way to show appreciation for people busting their asses. To be honest, we don't have the budget for these people. When you see all they do and see the 3 percent gratuity, you'll be like, 'Okay, who cares? It's 3 cents on a dollar to help these lunatics have families.'"
* * *
Shemtob and Quinn launched the Lime Truck in June 2010. To Shemtob, both the fruit and color symbolize the "clean, crisp and refreshing flavors of California." They paid $12,000 for a used food truck, painted it lime-green and devised a lofty concept for its cuisine. Quinn would cook dishes using local, organic and sustainably sourced ingredients, and he would change them up on the fly. The whiteboard menu could have "Crispy Gnocchi" scribbled on it one day, and "The Most Interesting Sandwich in the World" the next. (The latter was a grilled cheese stuffed with baked mac and cheese, grilled chicken, and bacon.) Its fan base quickly spiraled from a handful of friends to mobs of repeat customers who'd drive from all over the county and beyond to taste what's new.
While Quinn cooked, Shemtob stayed on the business side of things. "I wouldn't say he's Gordon Ramsay, but he's very aggressive and wants it his way, and he's very loud about it," he says. "If the food isn't perfect, he's gonna snap at somebody." But seeing Quinn's passion was "awesome," he says. "He was coming up with crazy new things. It made every day exciting."
Then, an even bigger opportunity came. Food Network was casting for the second season of The Great Food Truck Race, a competitive reality show for which gourmet food trucks from around the country embark on an "epic coast-to-coast culinary road trip." Of that season's eight contestants, producers picked two from OC: the Lime Truck and popular vegan-food truck Seabirds.
The unabashed personalities of Quinn, Shemtob and new Lime Truck chef Jesse Brockman—all of whom donned purple pants and lime-green sweat bands throughout the competition—made for entertaining television. "We loved their cockiness," says executive producer Dean Ollins. "When we met with them, they said, 'We're the best food truck. We're good-looking guys, and we can't be stopped.' They said there was nothing this production could do to throw them off their game. They basically dared us. So we put them though the ringer."
Host Tyler Florence threw "Speed Bump" challenges at the trucks: "You're out of propane," "You must lose a chef," "You can serve only desserts." When one challenge called for the chefs to create dishes that cost less than a dollar, Quinn resorted to using Velveeta cheese, which disgusted him. Ollins says Quinn's "strength is his weakness. . . . He believes in what he's doing, and he's confident, and these are wonderful traits, but he stubbornly refused to adapt almost before it was too late."
In his on-air interviews for the show, the bullheaded Quinn would defend his dishes to the proverbial bone. "This guest-judge dude just doesn't know what the hell he's talking about," Quinn railed, after a Kansas City food critic dismissed his ricotta pancake as "a little pasty, a little gluey, a little too sweet." "He's not a chef; he just eats for a living. That's the easiest job in the world."
After Miami restaurateur Michael Schwartz praised his citrus-cured ahi tuna poke but said he felt it was a dish from the 1980s, Quinn retorted, "Yeah, it is a retro dish. It's a classic flavor because it works. It's not like we're gonna stop making beef stroganoff because it's outdated."