* * *
In Quinn's mind, there are two ways to run a restaurant. The first is what he refers to as "full customization," and it has become the norm in American dining. You, the paying customer, handpick precisely what you want and don't want in a dish. No cheese? Add peas? This sauce instead of that sauce? Sure, fine.
But Quinn believes there are consequences to this.
Location Info
220 E. 4th St.
Santa Ana, CA 92701
Category: Bars and Clubs
Region: Santa Ana
Details
The Playground,
www.playgrounddtsa.com
. Open Wed.-Sat., noon-close; Sun., brunch, 10 a.m.-2 p.m.; supper, 5-9 p.m.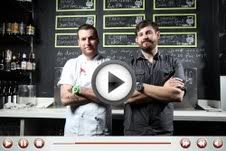 VIDEO: See our video interview with chef Jason Quinn.
"The Counter is a perfect example," he says. "I go to the Counter, and I order a burger and put tons of stuff on it. I fuck it up, and I hate it, and it's my fault. I have a negative impression and don't want to go back there. If [the cooks] would have served me what they wanted to serve, [the burger] probably would have been better."
The Playground, alternately, is "chef-driven," a term restaurants use when the food directly represents the aesthetic of a single chef (or a small group of chefs) instead of a corporation or brand. For Quinn, it also means that guests should try dishes the way they were intended. "Just try it," he says. "We say, 'Hey, we've worked really hard on this, and this is what we want to show you.' How can I look at you and serve you something I don't think is good and say, 'Enjoy your meal'? What kind of asshole am if I do that?"
He didn't set out to be a hell-raising chef. Growing up in Irvine, Quinn was an "insanely picky eater."
"Pizza, plain cheeseburgers—that's it," he recalls. His parents, both lawyers, were terrible cooks. "My mom [would] buy, like, frozen ground turkey and put it in a cold pan and turn it on and just let it boil in its own ice water. Then she'd put that in a casserole dish with boxed mashed potatoes on top, with raw onion and Cheddar cheese, and she'd bake it and say, 'Oh, shepherd's pie.'"
Quinn's grandfather had a health condition and couldn't have much salt, so his family never cooked with it. "I didn't know what salt was for until I was 19," he says. "I couldn't figure out why restaurant food always tasted so much better than the food at home."
He attended Tarbut V'Torah, a private Jewish school in Irvine, saying now that its kosher policies are probably the reason why he cooks so much pork. "It's such a noble animal, the pig," says Quinn, who was raised Jewish. "But this group of people gave it no love."
Quinn excelled in math and science, and went to UC Santa Barbara to study chemistry. His father, Bob, believes his son has always been "a little bit of a genius," proclaiming, "He could cure cancer if that's what he wanted to do."
One day when he was a sophomore in college, Quinn happened to catch Emeril Live. The voluble host was making a brie-and-blue-cheese quesadilla, making it look simple: Plop the cheese onto a tortilla, fold it, pan-fry it with some oil, sprinkle on some cinnamon and sugar, add a Barlett pear compote and walnuts, and BAM! "I remember thinking, 'That's, like, six things. That's not hard. I can do that,' so I did," Quinn says.
By following recipes step by step, he started cooking for friends, girls he was dating and family members. The money Quinn's parents gave him for textbooks went instead to buy cookbooks. "It was almost like a curse," he says of his new obsession. "If you get the bug, you have to do it." He eventually called his parents to tell them he decided what he wanted be—a chef.
Bob Quinn remembers the conversation. "He couldn't see my reaction on the other end of the phone, but I just thought, 'Ohhhhh, no. That is such a hard, hard life,'" he says. "But I said to him, 'Great!'"
Jason switched his major to history—"the quickest way out"—and wrote a thesis on four British chefs: Jamie Oliver, Marco Pierre White, Gordon Ramsay and Heston Blumenthal. After college, he returned to Orange County in 2008 and started working as a waiter at Houston's in Irvine. When he would talk to customers about food and cooking, he'd speak with such enthusiasm that people would sometimes ask if he'd come to their homes to cook for their friends. A private catering business was born.
On a trip to Las Vegas, Quinn recognized celebrity chef Kerry Simon at his restaurant at Palms Casino Resort; Simon offered to buy the young fan a drink. They talked about food: premium ingredients, the beauty of a good cocktail. Seeing Quinn's ambition, Simon invited him to be a stage, the kitchen equivalent of an intern, at his Los Angeles restaurant, Simon LA. Soon after, Quinn joined the staff at Charlie Palmer at South Coast Plaza, and months after that, he became a chef at Hanna's in Rancho Santa Margarita, a place with a hospitality policy to never say no.
"I can't tell you how many times a table sat down and ordered a rack of lamb, and I had to leave my station, run to Trader Joe's, buy a rack of lamb and cook it," he says.