RULE NO. 1: NO KETCHUP
Jason Quinn loves ketchup, but he won't serve it because he can't make ketchup that is "not evil." Heinz and Hunt's, he says, use "garbage" such as high-fructose corn syrup in their products, and therefore "have no regard for the people who are eating them."
"Everything [I make] is made from scratch and is beautiful, so how can we say, 'Hey, we worked for eight hours to make these French fries, but we're gonna serve you ketchup that we got out of a can?'" he says. "Those things do not equate with each other."
* * *
John Gilhooley
The Playground chefs (from left): April Ventura, Frank Deloach, Jason Quinn, Brad Radack, Natasha Schneider, Fawn Mathers and Christina Nguyen
Location Info
220 E. 4th St.
Santa Ana, CA 92701
Category: Bars and Clubs
Region: Santa Ana
Details
The Playground,
www.playgrounddtsa.com
. Open Wed.-Sat., noon-close; Sun., brunch, 10 a.m.-2 p.m.; supper, 5-9 p.m.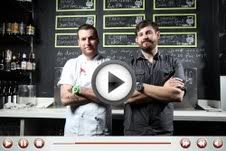 VIDEO: See our video interview with chef Jason Quinn.
"So the honeycomb tripe is coming in tomorrow, so are the sweetbreads, so are the trotters," Quinn says. "We're getting Jidori livers that we'll have to soak for a day, and we'll do a really sexy mousse of those."
"You don't want to do it Jewish chop style?" a sous chef asks.
"I'm doing that for the second course of the Death Row Meal."
"Word. That was good with the bourbon."
"I'm gonna put some bone marrow in it, too. Just get real slutty."
"Real slutty."
Quinn is sitting with his kitchen staff at a narrow communal dining table at the Playground, the downtown Santa Ana restaurant he opened three months ago. It's just after 1 p.m. on a Tuesday, the staff's day of intense prep, and he and sous chef Frank DeLoach are discussing the week's menu with the zeal of dorm-room buddies hovering over a Scarlett Johansson Maxim spread.
"I gotta tell you, I'm rock-hard for the fucking country ham with the pan con tomate," Quinn says, with no hint of irony.
Dressed in jeans and aprons, Quinn, and five other young chefs—a "ragtag group of dedicated lunatics," as Quinn says—skim through handwritten grocery lists, mentally noting what they have to do before heading back into the kitchen at 8 a.m. the next day, ready to hand-grind burger meat, braise octopuses and knead masa to make fresh tortillas. Quinn, the leader of the lunatics, hashes out the plans and types them into his MacBook. He has close-cropped, brown facial hair and crystal-blue eyes and speaks with the speed and intensity of an impassioned union organizer, his hands punctuating every statement.
"Oh, we're also getting a case of rabbit," he says. "I was thinking it'd be really cool if we took all the front quarters off and do, like, chicken wings, so it'd be, like, buffalo rabbit wings."
"With carrot sticks!" says April Ventura, another sous chef.
"Can we call it Buffalo Bunny Wings?" asks chef Brad Radack. He pauses and adds, "I'm such a sick fuck."
The menu will also feature a rack of prime-grade pork spareribs rubbed with coffee, braised overnight, smothered with molasses and served whole. It's a 4.5-pound beast, and since the Playground doesn't have any plates big enough to handle it, servers will bring it to guests on a sheet pan.
"It's such a joke," Quinn says. "We had this rack of ribs and couldn't figure out how to portion it fairly, so we just decided to serve the whole fucking thing."
The Playground's menu changes weekly, daily, hourly even, depending on what looks good at the markets and whether the chefs are feeling mustard cabbage or crispy apples or, fuck, both, served together, drenched in bacon fat. The push for every meal to be more memorable than the last has made 25-year-old Quinn a walking Tilt-A-Whirl: brainstorming, scouring for quality ingredients, cooking, tasting, altering and tasting again, moaning food-as-sex metaphors after each glorious bite.
It's also made him one of the most talked-about chefs in Orange County in years and has sent his career on a trajectory that makes a J-curve seem as arching as a cutting board. In a place where you can't drive a mile without passing some fast-food edifice, Quinn—the co-winner of Season 2 of Food Network's The Great Food Truck Race—is enthralling the county's food scene with playful comfort dishes and a staunch defense of his restaurant doctrines. Scribbled on the chalkboard wall are house rules that are never, ever broken. Last month, Quinn was both blasted as a hotheaded snot-nose and hailed as a service-industry hero after he responded to a bad Yelp review with a rant that ended, "Burn in Hell."
At the Playground, you can't always have it your way, but for the devout fans who arrive each day, hungry to discover what Quinn will be serving, that's exactly the way it should be.
Quinn wraps up the meeting, sending the chefs off to their stations. "Let's break down those 10 chickens today and get them marinating in some, like, really awesome marinade," he tells them. "Something incredibly flavorful."
"Can we do Asian brick chicken?" Radack asks.
"We can do anything!" Quinn cracks.
* * *
RULE NO. 2: RARE OR MEDIUM-RARE ONLY
Quinn says the meat the Playground uses is such high quality and the sous vide cooking technique so wonderful that it "guarantees a perfect medium-rare every time." If customers try it and can't stomach it, the chefs will grill it up. In fact, if guests try anything on the menu and don't like it, they don't have to pay for it. "Nobody forced you to come here," he explains. "We didn't advertise, saying, 'Hey, Best Happy Hour in Town.' We keep to ourselves, we do things our way, and we try to cook the best damn food we know how."